Said in my best Julie Chen voice…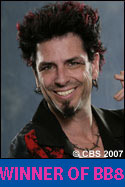 "In a vote of 5 to 2, Dick you are the winner of Big Brother 8!"
**wild cheering and celebration occurs across the nation**
I am glad that CBS gives us today to soak in the Big Brother finale before getting us Juiced with the new Survivor.
So…I want to make sure that everyone had their moving buddy…so start commenting away and let me know you made it over here. Please remember your first comment needs to be approved by me before I let you go all crazy!
PS: we are number 15 on Google for the keywords Survivor Blog and number 1 for Survivor China Blog. I hope that helps us get similar traffic as we did with BBB! Please do not melt my new server!
  Also we are 81 on Google for Survivor China.  Not too bad!
Jeff Probst (also known as BBBlogger)